Animal Enrofloxacin Oral Solution

Animal Enrofloxacin Oral Solution is used for bacterial disease and mycoplasma infection in livestock and poultry.Enrofloxacin Oral Solution 10% is a synthetic anti-infective of the fluoroquinolone class. Enrofloxacin Oral Solution 10% Cattle is effective-Urinary tract infections including infections with E.coli, Proteus spp., Klebsiella spp., Pseudomonas aeruginosa, Staph spp., and Group D Streptococcus.- Respiratory infections, including infections with E.Coli, Streptococcus spp, Pasteurella spp, Klebsiella spp, Pseudomonas spp, Bordetella bronchiseptica, Staphylococcus spp.Enrofloxacin Oral Solution is for Orally diluted in water.Enrofloxacin Liquid 10% is contraindicated in dogs known to be hypersensitive to quinolones.
Each ml contains: 1ml:100mg
Pharmacological actions:Broad spectrum bactericide.
Animal Enrofloxacin Oral Solution has a good function to colon bacillus, salmonella, klebsiella,
brucella, pasteurella,actinomycetes,erysipelothrixinsidiosa, proteus, serratia,corynebacterium pyogenes,
lose blood potter's bacteria, staphylococcus aureus, mycoplasma, chlamydia, etc. This product for most
strains MIC are below 1 μg/ml. The sensitive bacteria have obvious antibacterial effect (PAE).This
applies to goods cattle, swine, dogs and cats, fowls sensitive bacteria and mycoplasma caused by
the digestive system,respiratory system, urinary system and skin and soft tissure various infectious
diseases.Enrofloxacin Oral Solution 10% Cattle mainly used for mycoplasma disease, pasteurella
bacillus disease,escherichia coli disease, salmonella disease, streptococcus disease etc.
This product intramuscular injection absorb quickly and completely,bioavailability swine 91.9%,
milch cow 82%,camel 92%.Inside animals widely distributed, can be very good into organization,
body fluids(including bone and prostate).Eliminating main through the renal excretion.
Half life on different genus animals are quite different,intramuscular halflife:milch cow 5.9 hours,horse 9.9 hours,swine 4.6 hours.
Indications and Dosage: For Vet. use
Enrofloxacin Oral Solution 10% intramuscular:
Cattle: 1.25ml/ 50kg body weight.
Sheep: 0.625ml/ 25kg body weight.
Pigs:1.25ml/50kg body weight.
Dogs: 1.25~2.5ml/ 50kg body weight.
Cats: 1.25~2.5ml/ 50kg body weight.
Rabbits: 1.25~2.5ml/ 50kg body weight.
Indication:
Used in animal mycoplasma infections and bacterial diseases.
For example mycoplasmal pneumonia of swine,pasteurella,colibacillus,salmonella,streptococcus,
actinomycetes pleuropneumonia,mammitis and so on;the skin,respiratory tract and urinary tract infected
with dogs or cats sensitive bacteria.
Packing: 100ml/bottle 40bottles/carton
Storage: Store below 30 away from direct sunlight & keep out of reach of children.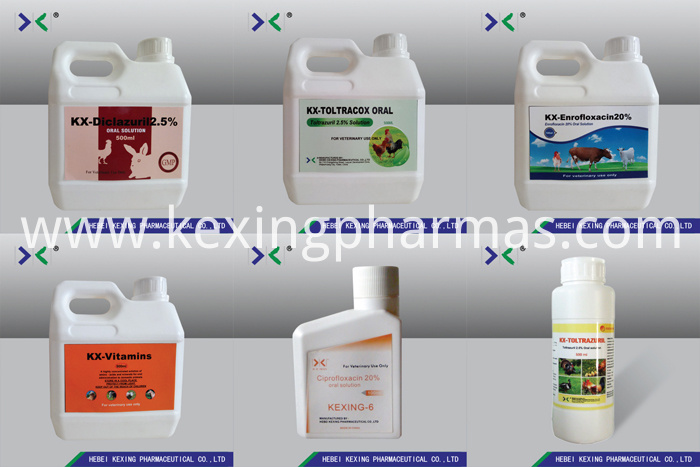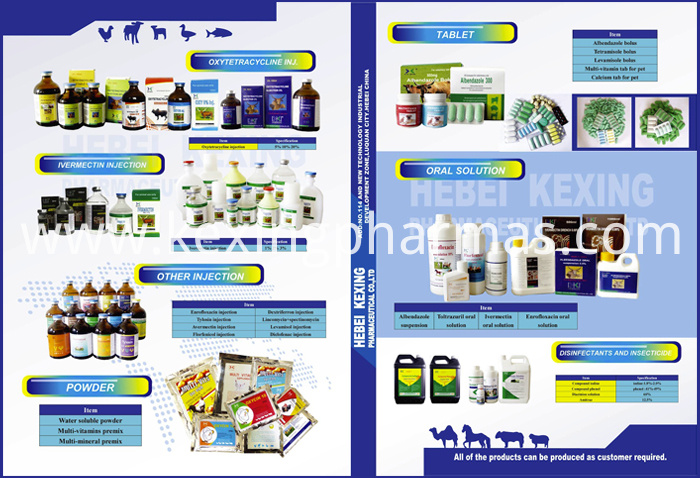 Looking for ideal Enrofloxacin Oral Solution 10% Manufacturer & supplier ? We have a wide selection at great prices to help you get creative. All the Enrofloxacin Oral Solution 10% Cattle are quality guaranteed. We are China Origin Factory of Enrofloxacin Liquid 10%. If you have any question, please feel free to contact us.