Tylosin Tratrate Injeciton 20%
Animal Tylosin Injection is available in a concentration of 200mg/ml tylosin base. Tylosin Tartrate Injection is recommended for intramuscular injection only in animals such as beef cattle, nonlactating dairy cattle and swine. Tylosin Injection is indicated for use in the treatment of bovine respiratory complex(shipping fever,pneumonia) usually associated with Pasteurella multocida and Actinomyces pyogenes; foot-rot(necrotic pododermatitis) and calf diphtheria caused by Fusobacterium necrophorum and metritis caused by Actinomyces pyogenes in beef cattle and nonlactating dairy cattle.Tylosin Injection 20% is indicated for use in the treatment of swine arthritis caused by Mycoplasma hyosynoviae, swine pneumonia caused by Pasteurella spp.
Tylosin Tartrate Injection 20% Composition: Per ml. solution: Tylosin (as tartrate) 200 mg.
Description:
Tylosin Tartrate 20%, a macrolide antibiotic, is active against particularly Gram-positive bacteria, some Spirochetes (including Leptospira); Actinomyces, Mycoplasmas (PPLO), Haemophilus pertussis, Moraxella bovis and some Gram-negative cocci. After parenteral administration, therapeutically active blood-concentrations of Tylosin are reached within 2 hours.
Indications
Infections caused by micro-organisms susceptible to Tylosin, like e.g. respiratory tract infections in cattle, sheep and pigs, Dysentery Doyle in pigs, Dysentery and Arthritis caused by Mycoplasmas, Mastitis and Endometritis.
Contra-indications
Hypersensitivity to Tylosin, cross-hypersensitivity to macrolides.
Sometimes, local irritation at the injection site may occur.
Dosage and administration
For intramuscular or subcutaneous administration.
Cattle:0.5-1 ml. per 10 kg. bodyweight daily, during 3-5 days.
Calves, sheep, goats:1.5-2 ml. per 50 kg. bodyweight daily, during 3-5 days.
Pigs:0.5-0.75 ml. per 10 kg. bodyweight every 12 hours, during 3 days.
Dogs, cats:0.5-2 ml. per 10 kg. bodyweight daily, during 3-5 days.
Withdrawal period
Meat:8 days
Milk:4 days
Storage
Store in a dry, dark place between 8°C and 15°C.
Packing
100 ml. multidose vial (80 vials per box).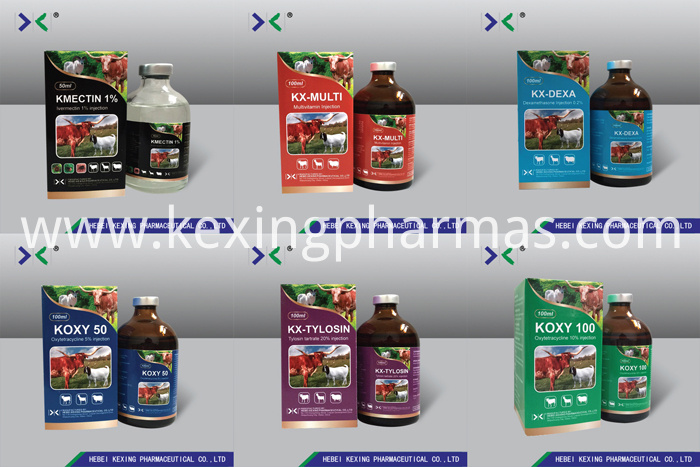 Looking for ideal Tylosin Tartrate Injection 20% Manufacturer & supplier ? We have a wide selection at great prices to help you get creative. All the Animal Tylosin Injection are quality guaranteed. We are China Origin Factory of Tylosin Tartrate 20%. If you have any question, please feel free to contact us.