Veterinary Anthelmintic Drug of Tetramisole Hcl Tablet Tetramisole Hcl Bolus (single dose each time)
(15mg active substance per kg body weight, cattle,sheep,goat,camels:one bolus per 40 kg body
weight.Lambs and kids:half bolus per 20 kg body weight. Animal Health Drug Tetramisole Hcl
Tetramisole tablets
For Veterinary Use Only
COMPOSITION
Active ingredient: Tetramisole 1000mg/tablet
DESCRIPTION
Green tablets.
PHARMACOLOGICAL ACTIONS:
Tetramisole is a broad-spectrum anthelmintic that acts on both mature and immature stages
of many important gastrointestinal nematodes and lungworms in cattle, sheep, goats and pigs.
In susceptible nematodes tetramisole inhibits the neuromuscular transmission of stimuli.
Immediately after administration, tetramisole causes the neuromuscular paralysis of the
parasite that the host expels within 24 hours. After repeated dosing, this anthelmintic
modulates the immune response (immunostimulant effect) i.e. it renews the blocked
functions of T-lymphocytes.
TARGET SPECIES
Cattle, sheep, goats and pigs
INDICATIONS
Prevention and treatment of parasite infestations caused by mature and immature stages of
the below-indicated worms in ruminants and pigs.
Cattle, sheep, goats: Nematodes in the rumen: Haemonchus spp., Trichostrongylus spp.,
Ostertagia spp. TETRAMISOLE efficiently controls juvenile and adult Ostertagia in cattle, and
it is effective in the treatment of winter ostertagiasis - type II. It lacks efficacy against some
arrested (hypobiotic) larvae, so that repeated tetramisole therapy is indispensable; Intestinal
nematode: Trichostrongylus spp., Cooperia spp., Nematodirus spp., Oesophagostomum spp.,
Chabertia ovina, Toxocara vitulorum, Bunostomum spp., Strongyloides papillosus (adult
worms in sheep). Pulmonary nematodes: Dictyocaulus viviparus.
Pigs: Gastrointestinal nematodes: Ascaris suum, Hyostrongylus rubidus, Oesophagostomum
dentatum, Strongyloides ransomi, Trichuris suis; Pulmonary nematodes: Metastrongylus spp.
DOSAGE AND ADMINISTRATION
For oral administration:
Cattle, pigs, sheep and goats: 1 tablet/66.7-100kg body weight, 10-15mg/kg body weight.
Cattle do not exceed 4.5 tablet.
PRECAUTIONS
Tetramisole tablets may be given to young animals, gravid and lactating females. However,
use of this medicine should be avoided in animals in advanced gestation, in debilitated and
dehydrated animals and in those under stress or kept under inadequate conditions.
Tetramisole tablets may be administered concomitantly with vaccines and antimicrobial
agents. Concomitant use of tetramisole and anthelmintics that act as nicotinic cholinometics
(pyrantel) should be avoided. Do not used for horses and camel.
CONTRAINDICATION
Tetramisole tablets are not recommended for use in severely debilitated animals.
SIDE EFFECTS
Side effects of tetramisole are rare at the recommended dosage. Soft faeces or reduced appetite
with insignificant drop in milk yield may also occur. Transient vomiting after dosing is possible in pigs.
DRUG INTERATIONS
For 14 days before and after administration of tetramisole tablets the animals should not be
treated with organic compounds of phosphorus (insecticides, acaricides, anthelmintics).
OVERDOSE
In individual ruminants, higher doses than recommended may cause head shaking, increased
salivation and mild muscle tremors, approximately 30 minutes post administration. These signs
of excessive irritation of the nervous system disappear relatively quickly (antidote - atropine).
WITHDRAWAL PERIOD
Meat: 28days
Do not use in animals producing milk for human consumption
STORAGE
Seal and store in a dry place, protect from light.
Keep out of reach of children.
SHELF LIFE
3 years.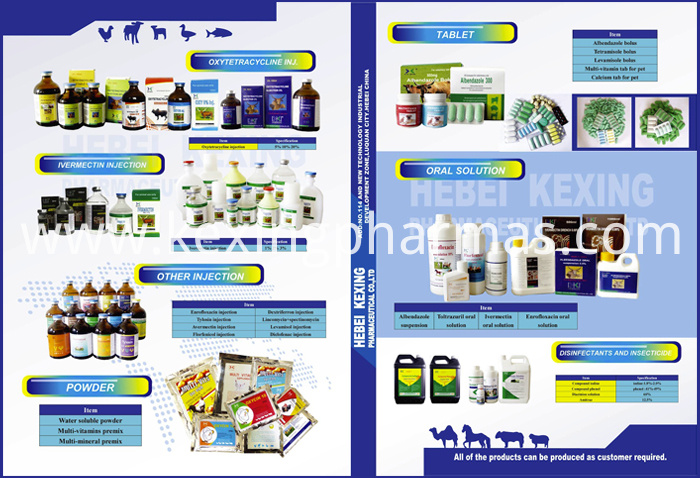 Looking for ideal Tetramisole Hcl Tablet 1G Manufacturer & supplier ? We have a wide selection at great prices to help you get creative. All the Tetramisole Hcl Bolus 1G are quality guaranteed. We are China Origin Factory of Animal Drug Tetramisole Hcl. If you have any question, please feel free to contact us.